Roswell Daily Record's Big Day/The Roswell Incident Tape Bundle
Open media in modal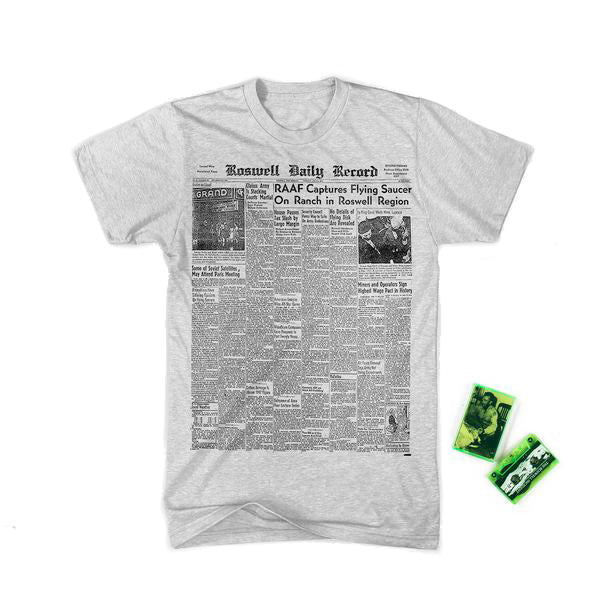 Roswell Daily Record's Big Day/The Roswell Incident Tape Bundle
Description

In celebration of the 70th anniversary of the original extraterrestrial crash heard round world, our Captain has steered her ship towards the high plains of New Mexico.

Arguably the most famous UFO incident in history, it's the Roswell Incident.

This incident was documented in a local publication, now availble in for the first time ever...in shirt form.

This special edition bundle includes:

A shirt version of the front page of the Roswell Daily Record's coverage of the crash.

Matching florescent green case/cassette. 

Almost two full hours in length on two sides. 

Digital download (in standard & simulated cassette versions).

Liner notes by Kelly.

Patreon patreons at the $4 level or higher will receive the cassette free (plus s&h). Consider joining for this perk, as well as access to thirteen other episodes of Captain Kelly's Cryptids and Conspiracies.

Once your order has been placed, a download link will be emailed to you. 

First podcast on cassette? Maybe.

First UFO crash? Likely.

Thanks so much for your support,

Byron, Sam, & Capt. Kelly 

SHIPPING
All orders are shipped by USPS 4-10 days (7-14 outside of the United States).

RETURNS & EXCHANGES
Items may be returned postmarked within 30 days of order. Items must be in received condition (not washed), & shipped at buyer's expense. Buyer has the option to receive a refund less shipping charges or exchange for another item and pay any additional shipping.

No returns will be accepted on sale items.